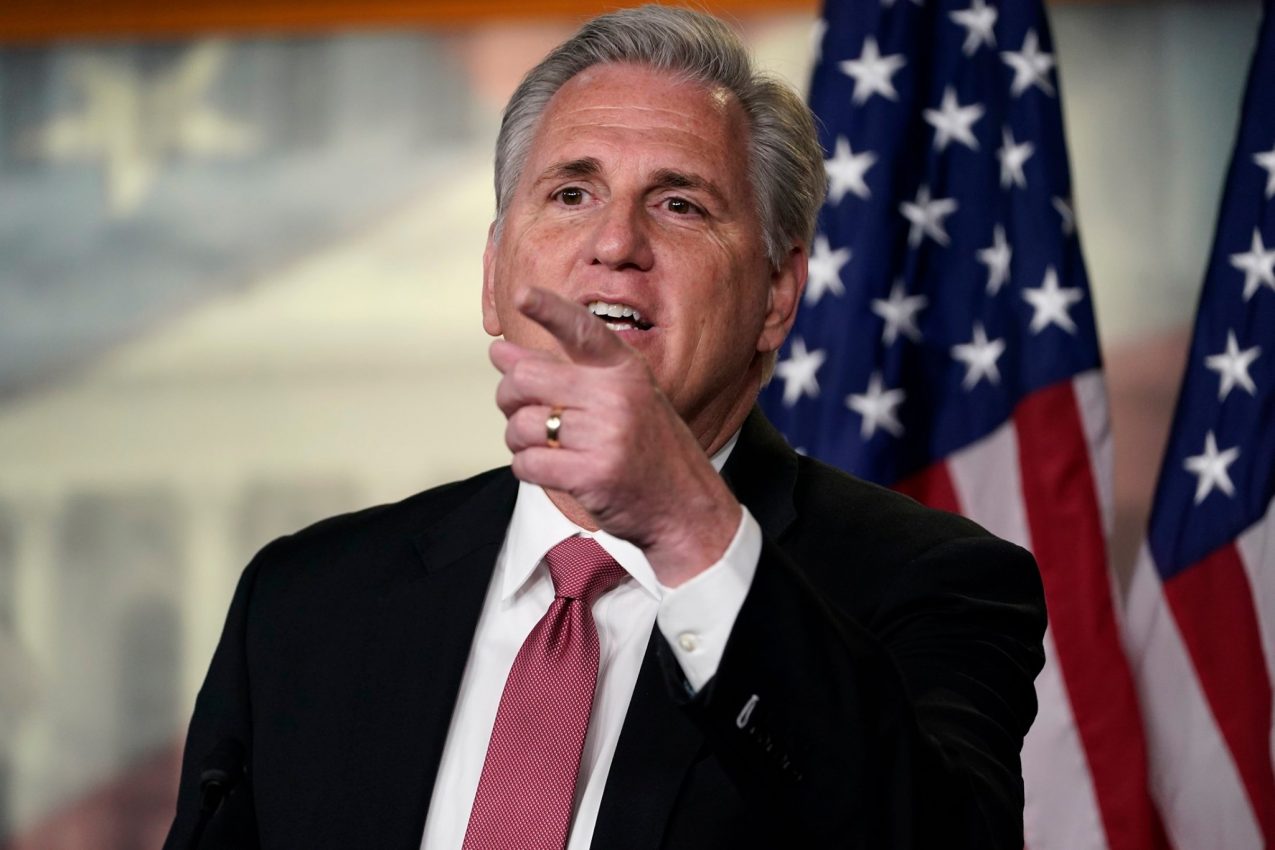 House GOP leader Kevin McCarthy has suggested Republicans would not remove Georgia Rep. Marjorie Taylor Greene from committee assignments.
The decision by the House Republicans to not strip Rep. Greene of her committee assignments as announced by McCarthy is a departure from the increasing number of Republicans who want to eliminate voices promoting conspiracies that threaten their efforts to rebuild the party following former President Donald Trump's administration.
These include Senate Republican leader Mitch McConnell who admonished Rep. Greene, calling her views cancer for the Republican Party.
While Sen. McConnell did not directly name controversial Rep. Greene, his statements slammed the Georgia Republican's "loony lies and conspiracy theories" as a "cancer" for the Republican Party.
This move by House Republicans effectively prompts Democrats to take matters in their hands.
Many House Republicans say that Greene, who allied herself with Trump, should not be punished for views she expressed prior to her election to Congress. This was despite lawmakers from both parties expressing alarm over revelations that she was promoting conspiracy theories and made other incendiary and racist claims.
House Majority Leader Steny Hoyer, a Maryland Democrat, spoke with McCarthy on Wednesday regarding the removal of committee assignments from Greene.
Hoyer said: "I spoke to Leader McCarthy this morning, and it is clear there is no alternative to holding a Floor vote on the resolution to remove Rep. Greene from her committee assignments. The Rules Committee will meet this afternoon, and the House will vote on the resolution tomorrow."
In a statement, McCarthy said Greene's past statements "do not represent the values or beliefs of the House Republican Conference" but did not specify any sanction against the freshman congresswoman.
Instead, McCarthy said he would "hold her to her word" that she would be more careful with her comments going forward and proceeded to attack the Democrats for Hoyer's initiative to remove committee assignments from Greene.
McCarthy said: "I understand that Marjorie's comments have caused deep wounds to many and as a result, I offered Majority Leader Hoyer a path to lower the temperature and address these concerns. Instead of coming together to do that, the Democrats are choosing to raise the temperature by taking the unprecedented step to further their partisan power grab regarding the committee assignments of the other party."
Greene and conspiracies
Last week, the Georgia representative received tremendous criticism after a CNN KFile report revealed that she had repeatedly indicated support for executing prominent Democratic politicians in 2018 and 2019 prior to her election.
Greene liked a comment in a January 2019 post which said "a bullet to the head would be quicker" to remove House Speaker Nancy Pelosi. She also liked comments about executing FBI agents who she deems to be part of the "deep state" working against Trump.
Aside from her track record of incendiary rhetoric, such as Islamophobic and anti-Semitic comments, the congresswoman is also known for her links to the QAnon conspiracy theory.
A 2018 video recently resurfaced, showing Greene confronting Parkland shooting survivor David Hogg and calling the high-profile school shooting a "false flag" operation. She has also questioned whether the Pentagon was really struck by a plane in the September 11, 2001 terrorist attacks.
Last month, Twitter temporarily suspended the account of Greene for repeatedly violating its new rules.
A Twitter spokesperson explained: "The account referenced has been temporarily locked out for multiple violations of our civic integrity policy."
Rep. Greene's account was suspended after she tweeted a conspiracy-laden thread about the Georgia Senate elections. Some of her tweets received warning labels on the platform, which read: "This claim about election fraud is disputed, and this Tweet can't be replied to, Retweeted, or liked due to a risk of violence."