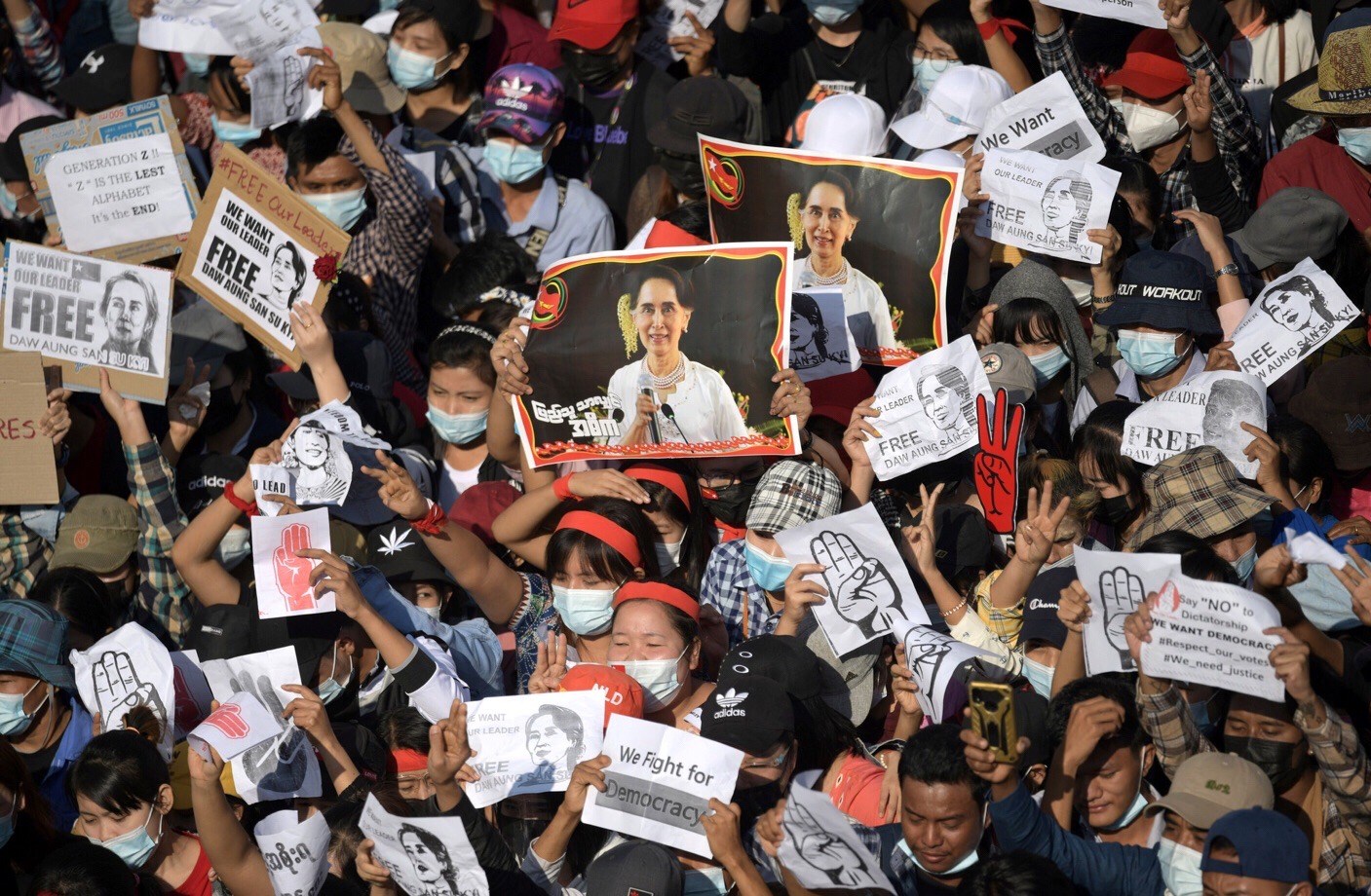 Myanmar police have fired rubber bullets on protesters during a demonstration in Nay Pyi Taw, with thousands participating despite a ban.
Aside from rubber bullets, police also used water cannon and tear gas against protesters, who violated a ban on large public gatherings and night-time curfews and held the fourth consecutive day of protests in Myanmar. Military leader Min Aung Hlaing warned people that no one is above the law.
According to a Reuters report, police began using water cannon against protesters in Nay Pyi Taw but they were able to withstand it and refused to retreat as they yelled "End the military dictatorship."
The police fired warning shots into the air before shooting rubber bullets at the protesters.
An unnamed medical officer from a Nay Pyi Taw hospital spoke to BBC Burmese and said two protesters were injured from the encounter. One woman sustained a serious head wound and another demonstrator had chest injuries.
A young male protester said: "We come here well aware of the ban over gatherings of more than five people. However, we come out because we have to protest until the president and Mother Suu are freed."
In its third day, calls to join protests and to back a campaign of civil disobedience were heeded by monks and nurses in Myanmar, with demonstrations against the military coup becoming louder and more organized.
Protests over the weekend were considered the largest since the "Saffron Revolution" led by Buddhist monks in 2007, which led to democratic reforms in the country.
Aye Misan, a nurse at a government hospital, said: "We health workers are leading this campaign to urge all government staff to join the (civil disobedience movement). Our message to the public is that we aim to completely abolish this military regime and we have to fight for our destiny."
Meanwhile, a group of saffron-robed monks were seen marching in front of the protesters while flying multicolored Buddhist flags alongside red banners that represent civilian leader Aung San Suu Kyi's National League for Democracy (NLD) party.
Military coup and social media blackout
The military took control of Myanmar in a coup last week and declared a state of emergency following the detention of NLD leaders, including Suu Kyi.
People in Myanmar woke up to widespread internet and communications blackouts, closed banks, and military patrols in the city of Yangon. TV channels were seemingly blocked, with the military-owned Myawaddy TV channel the only one accessible to residents.
A news anchor on the TV channel announced that control of the entire country has been transferred to army chief Min Aung Hlaing. The military confirmed that it has detained Suu Kyi and other high ranking NLD leaders due to alleged voting irregularities in November's election.
The military leaders blocked access to Facebook on Thursday and said it is for the sake of "stability" in the country. The following day, it also blocked social media platforms Twitter and Instagram.
Norwegian company Telenor confirmed that the Myanmar Ministry of Transport and Communications ordered the country's mobile networks and internet service providers to block access to Twitter and Instagram.
In a statement, Telenor said: "While the directive has legal basis in Myanmar's telecommunications law, Telenor Myanmar has challenged the necessity and proportionality of the directive… and highlighted the directive's contradiction with international human rights law."