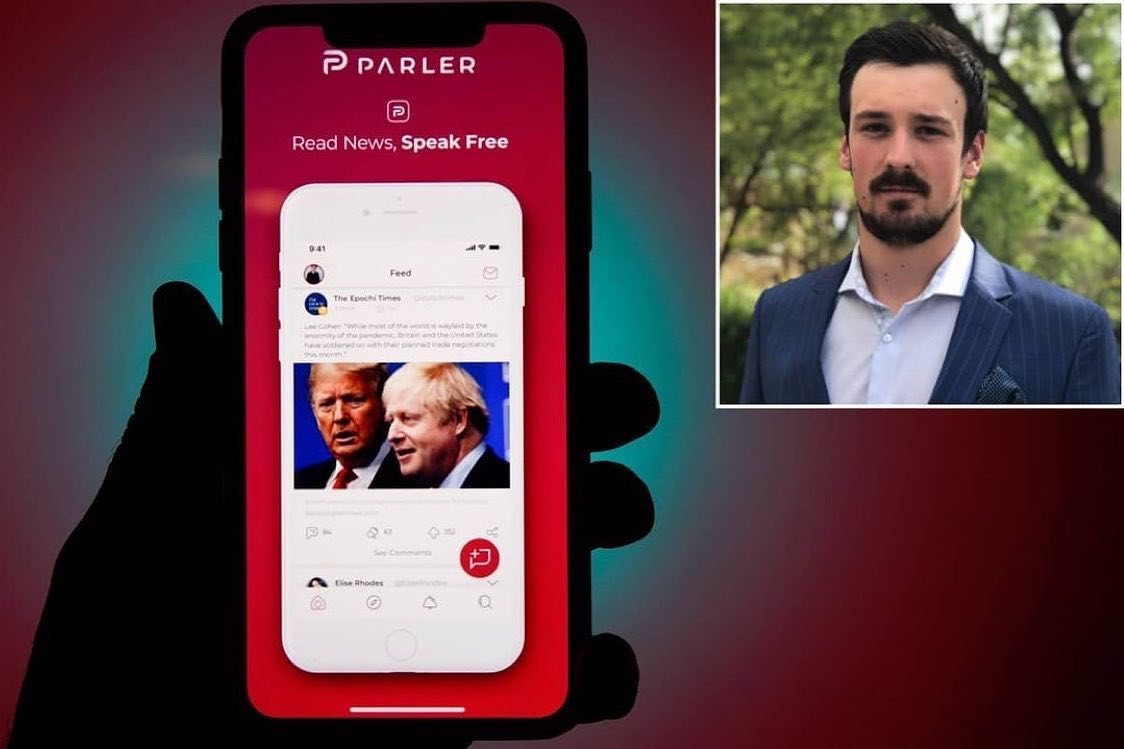 Parler chief executive officer (CEO) John Matze has been terminated by the board of the embattled free speech social media firm.
Parler investor and right-wing commentator Dan Bongino confirmed that the board has terminated the company's CEO John Matze. Bongino's announcement follows a Fox Business report on Wednesday afternoon about a leaked memo written by Matze.
In the memo, the CEO reportedly claimed he had been fired by the owners of the social platform.
Bongino confirmed Matze's termination via a Facebook video on Wednesday night and he claimed that he had no "personal gripe" with Matze, but he disputed the former CEO's narrative surrounding his departure.
"The relationship with Parler and the CEO did not work out because the CEO's vision was not ours," Bongino said.
The Wall Street Journal reported on Wednesday evening a statement from Matze claiming that he "met constant resistance to my product vision, my strong belief in free speech and my view of how the Parler site should be managed. For example, I advocated for more product stability and what I believe is a more effective approach to content moderation."
In response to this claim, Bongino said Matze was not telling the truth. He said: "It is me and my co-owners who are resolutely committed to a free speech site. [Matze] is no white knight in this story."
AWS removal and lawsuit
The disagreement between Matze and Parler's owners seemed to have begun following Amazon's decision to drop the social media app from its cloud computing service.
In early January, Amazon announced its removal from Amazon Web Services (AWS) for violating rules after it discovered 98 posts on the site encouraging violence.
In a letter to Parler's Chief Policy Officer Amy Peikoff, Amazon's AWS Trust and Safety team pointed out that the social network "does not have an effective process to comply with the AWS terms of service".
The letter stated: "AWS provides technology and services to customers across the political spectrum, and we continue to respect Parler's right to determine for itself what content it will allow on its site."
"However we cannot provide services to a customer that is unable to effectively identify and remove content that encourages or incites violence against others. Because Parler cannot comply with our terms of service and poses a very real risk to public safety, we plan to suspend Parler's account," the team added.
Parler filed a case with a federal judge to force Amazon to bring it back to the tech giant's AWS cloud computing service.
In its complaint, Parler stated: "AWS's decision to effectively terminate Parler's account is apparently motivated by political animus. It is also apparently designed to reduce competition in the microblogging services market to the benefit of Twitter."
In response to Parler's allegations, Amazon said: "There is no merit to these claims."
Two weeks ago, Federal Judge Barbara Rothstein denied the request by Parler for a temporary restraining order or preliminary injunction to force Amazon to restore the social media app on AWS, saying the company did not meet the legal requirements.
While the ruling did not end the litigation process, it eliminates Parler's option of using the court to force Amazon Web Services to bring the app back onto its cloud hosting platform. This sets the social media firm back in its efforts to return online.