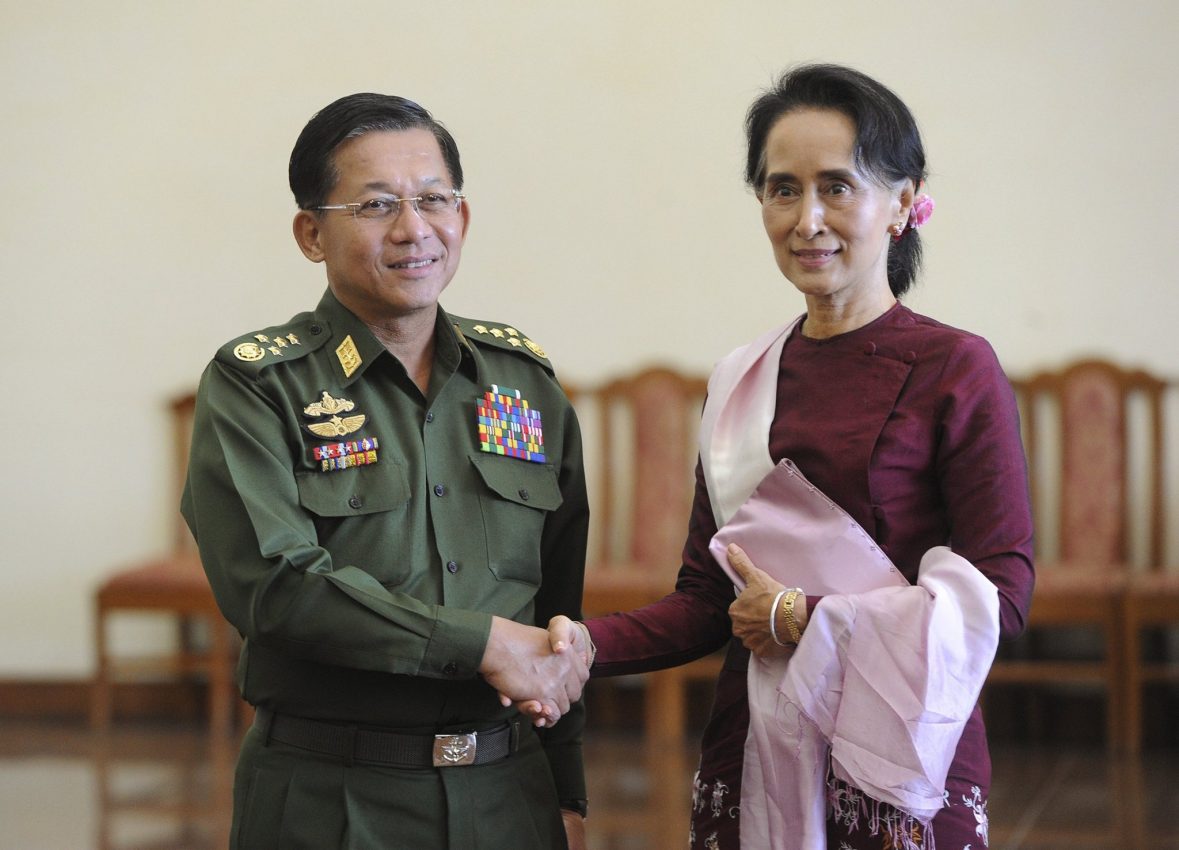 Military forces have staged a coup to take control of Myanmar, declaring a state of emergency and detaining ruling party leaders.
The military took control of Myanmar in a coup on Monday and declared a state of emergency following the detention of civilian leader Aung San Suu Kyi and other leaders of the ruling National League for Democracy (NLD) party.
Military coup and alleged voter fraud
On Monday morning, people in Myanmar woke up to widespread internet and communications blackouts, closed banks, and military patrols in the city of Yangon. TV channels were seemingly blocked, with the military-owned Myawaddy TV channel the only one accessible to residents.
A news anchor on the TV channel announced that control of the entire country has been transferred to army chief Min Aung Hlaing. The military confirmed that it has detained Suu Kyi and other high ranking NLD leaders due to alleged voting irregularities in November's election.
In that election, the NLD had an overwhelming win, taking 83% of the vote that granted the party another five years in government. Meanwhile, the military-backed Union Solidarity and Development Party won just 33 out of a possible 476 seats.
The coup was carried out just hours before the opening session of the new parliament.
A military spokesperson said last week that they are not ruling out if the allegations of voter fraud were not properly investigated and the military decided to take this into action, saying the political leaders were arrested for "failing to take action."
Claims of voter fraud by the military have previously rejected by Myanmar's election commission, pointing out that any errors, such as duplicated names on voter lists, were insufficient to influence the result of the vote.
The army chief's office released a statement saying that elections will be conducted only after the election commission has been "re-constituted" and investigations were conducted on the voter lists.
The statement read: "A free and fair multiparty general election will be held and then, state responsibilities will be handed over to the winning party meeting norms and standards of democracy."
Reactions to the coup
The military's actions received international condemnation. The US called on the military leaders to "release all government officials and civil society leaders and respect the will of the people."
In a statement, US Secretary of State Antony Blinken said: "The United States expresses grave concern and alarm regarding reports that the Burmese military has detained multiple civilian government leaders, including State Counsellor Aung San Suu Kyi, and civil society leaders. The military must reverse these actions immediately."
Myanmar historian and author Thant Myint-U tweeted: "The doors just opened to a very different future. I have a sinking feeling that no one will really be able to control what comes next. And remember Myanmar's a country awash in weapons, with deep divisions across ethnic and religious lines, where millions can barely feed themselves."
United Nations Special Rapporteur on Human Rights for Myanmar Tom Andrews described the coup as a "real mystery."
He said: They wrote the constitution that they just overthrew. It gives them enormous power, economic power, political power. So how and why they overturn their own constitution is incredible."
In 2008, the ruling military group drafted a constitution that gave 25% of legislative seats to the military as well as control of key ministries such as defense and home affairs, and a veto power on constitutional issues.