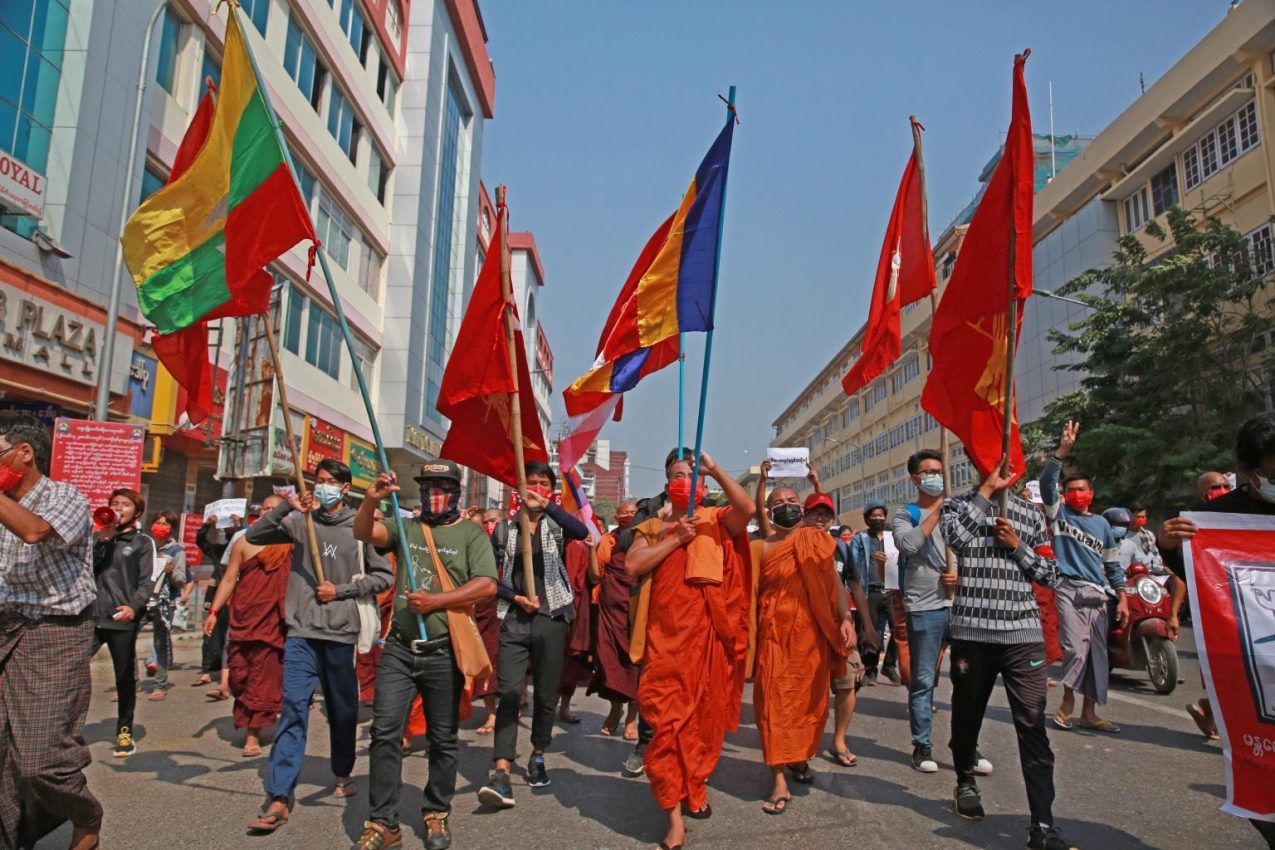 On Monday, tens of thousands of people, including monks and nurses, joined the third day of protests against the military coup in Myanmar.
In its third day, calls to join protests and to back a campaign of civil disobedience were heeded by monks and nurses in Myanmar, with demonstrations against the military coup becoming louder and more organized.
Third day of protests
Protests over the weekend were considered the largest since the "Saffron Revolution" led by Buddhist monks in 2007, which led to democratic reforms in the country.
Aye Misan, a nurse at a government hospital, said: "We health workers are leading this campaign to urge all government staff to join the (civil disobedience movement). Our message to the public is that we aim to completely abolish this military regime and we have to fight for our destiny."
Protesters at the capital Naypyidaw were fired upon by police using a water cannon.
Meanwhile, a group of saffron-robed monks were seen marching in front of the protesters while flying multicolored Buddhist flags alongside red banners that represent civilian leader Aung San Suu Kyi's National League for Democracy (NLD) party.
They were carrying signs that read "Release Our Leaders, Respect Our Votes, Reject Military Coup," "Save democracy" and "Say No to Dictatorship."
There were also thousands of demonstrators that marched in the southeast coastal city of Dawei, and in the Kachin state capital in the far north, where the protesters wore all-black clothing.
Aside from the street protests, there is also a campaign of civil disobedience, which was initiated by doctors and then joined by some teachers and other government workers.
Activist Min Ko Naing, a veteran of the demonstrations in 1988, said: "We request government staff from all departments not to attend work from Monday.
Thomas Andrews, the United Nations special rapporteur on Myanmar, wrote on Twitter: "Protesters in Myanmar continue to inspire the world as actions spread throughout the country. Myanmar is rising up to free all who have been detained and reject military dictatorship once and for all. We are with you."
Military coup in Myanmar
The military took control of Myanmar in a coup on Monday and declared a state of emergency following the detention of NLD leaders, including Suu Kyi.
On Monday morning, people in Myanmar woke up to widespread internet and communications blackouts, closed banks, and military patrols in the city of Yangon. TV channels were seemingly blocked, with the military-owned Myawaddy TV channel the only one accessible to residents.
A news anchor on the TV channel announced that control of the entire country has been transferred to army chief Min Aung Hlaing. The military confirmed that it has detained Suu Kyi and other high ranking NLD leaders due to alleged voting irregularities in November's election.
The military leaders blocked access to Facebook on Thursday and said it is for the sake of "stability" in the country. The following day, it also blocked social media platforms Twitter and Instagram.
Norwegian company Telenor confirmed that the Myanmar Ministry of Transport and Communications ordered the country's mobile networks and internet service providers to block access to Twitter and Instagram.
In a statement, Telenor said: "While the directive has legal basis in Myanmar's telecommunications law, Telenor Myanmar has challenged the necessity and proportionality of the directive… and highlighted the directive's contradiction with international human rights law."